1) ASIC audit inspection results
As part of its audit inspection program, ASIC review a sample of files at each audit firm focussing on high risk areas in listed company audits.
In its latest review (for the 12 months to 30 June 2019) ASIC inspected 34 key audit areas of focus in 10 PwC client files. They found that in six of the 34 areas reviewed (or 18%), PwC did not obtain reasonable assurance that the financial report was free from material misstatement.
None of the PwC files had multiple findings and none of ASIC's findings resulted in a restatement of financial statements to the market. For context, PwC signed approximately 10,000 opinions across 2,200 clients during the review period, against ASIC's risk focused sample size of 10.
We have undertaken a root cause analysis of all the findings in our report and have built these learnings into our continuous improvement process.
ASIC's private inspection reports to PwC for the 12 months to 30 June 2019 and the 18 months to June 2018 are available here.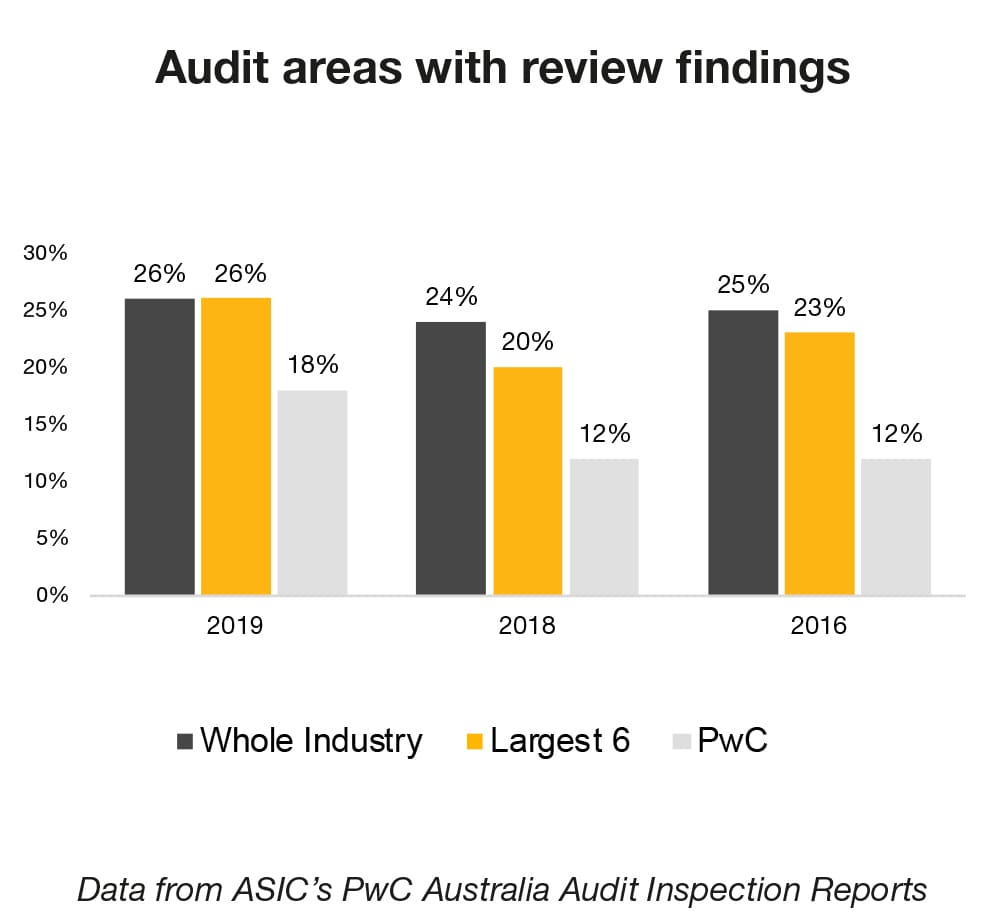 2) PwC internal inspection results
PwC Australia is subject to globally coordinated quality inspections because we are part of the PwC network. The inspections are coordinated by a global team and led by representatives from other PwC network firms, not Australian representatives. The findings are independently moderated by our Global Assurance Risk & Quality team.
PwC inspections summarise outcomes by rating an overall audit file as "compliant" or "non-compliant" with PwC standards, which are based on International Standards on Auditing (ISAs).
In 2019, two files out of 45 reviewed were rated non-compliant with PwC standards. One finding related to a listed company. Neither finding required the reissue of the audit report or a restatement, but instead a need for improvement in how the audit work was performed and documented. The findings have formed a key part of our audit quality improvement plan going forward.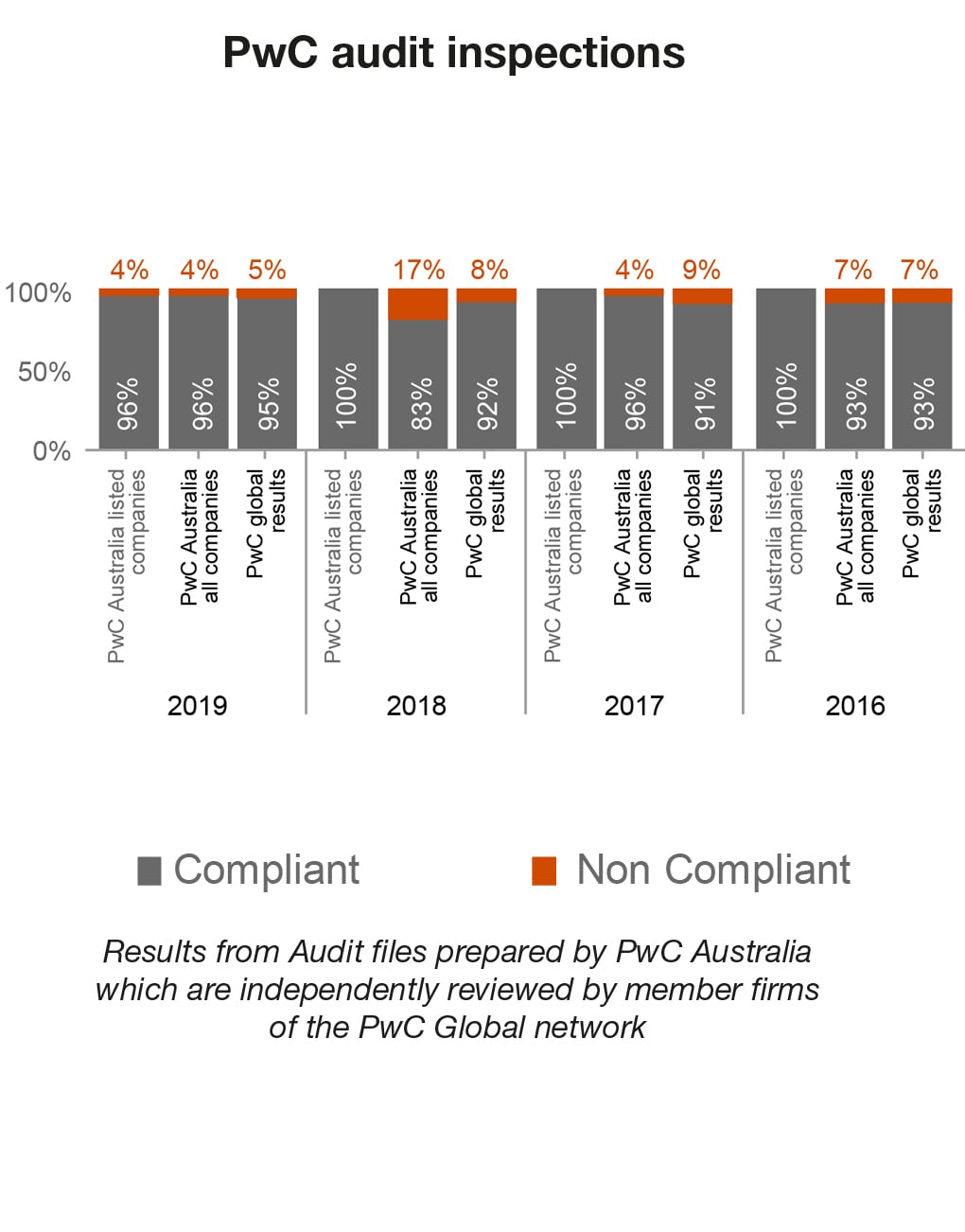 3) Restatements
The identification of a finding from an audit inspection from ASIC or PwC's global inspection program means that a certain element of the auditing standard, be it design, execution or documentation of audit testing has not, in the opinion of the reviewer, met the requirements of the relevant auditing standard.
This does not, however, mean that the underlying financial statements to which the audit relates are materially misstated.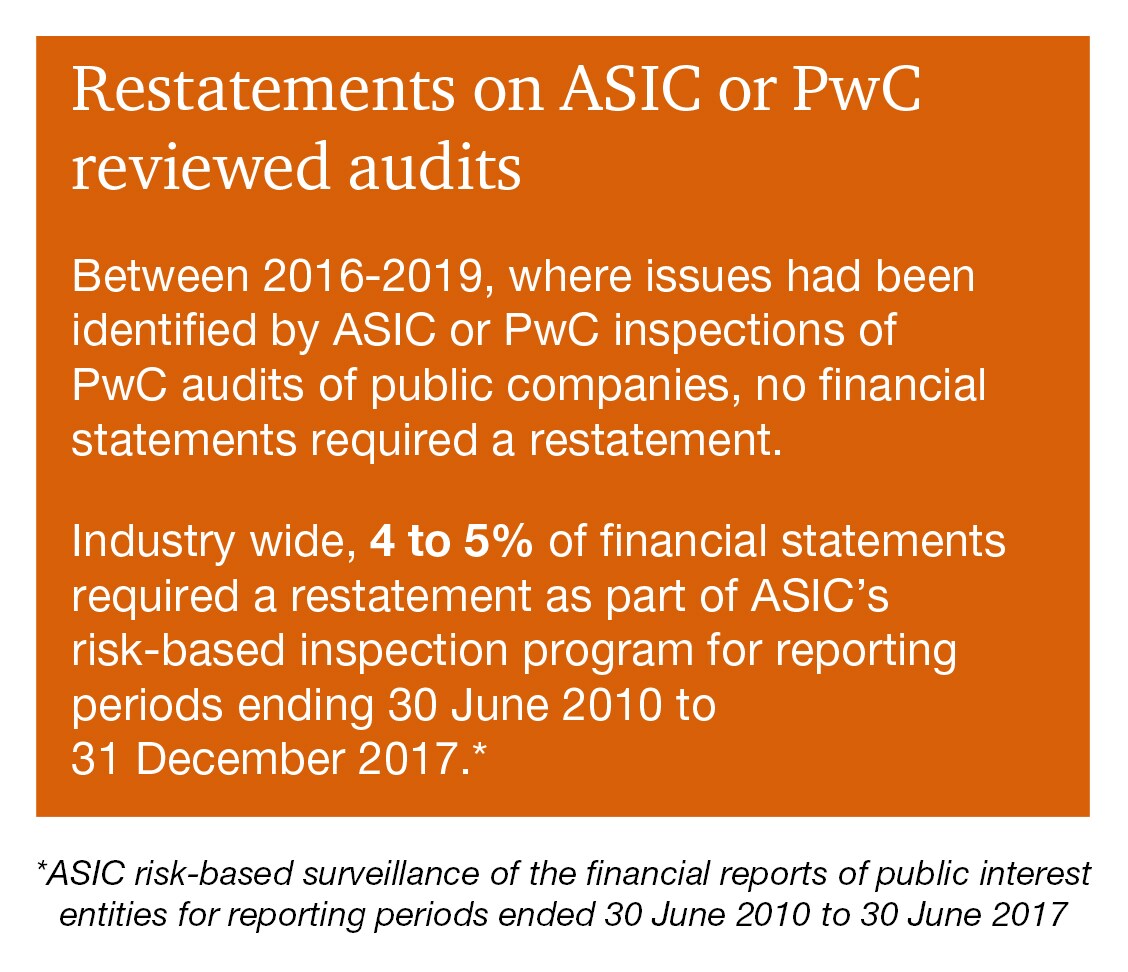 4) Adjustments arising from PwC audits
There are many cases where a company makes adjustments to its financial statements, or clarifies or enhances its disclosure, before they are published, as a result of the audit.
This is a critical and important part of a quality audit. It requires sound risk assessment, deep technical knowledge and an ability to raise issues with management and the audit committee, sometimes in difficult situations.
In 2019, PwC audits of listed companies have identified to date, on average, five potential adjustments per audit, and ensured their appropriate treatment, prior to finalisation of the company's financial statements.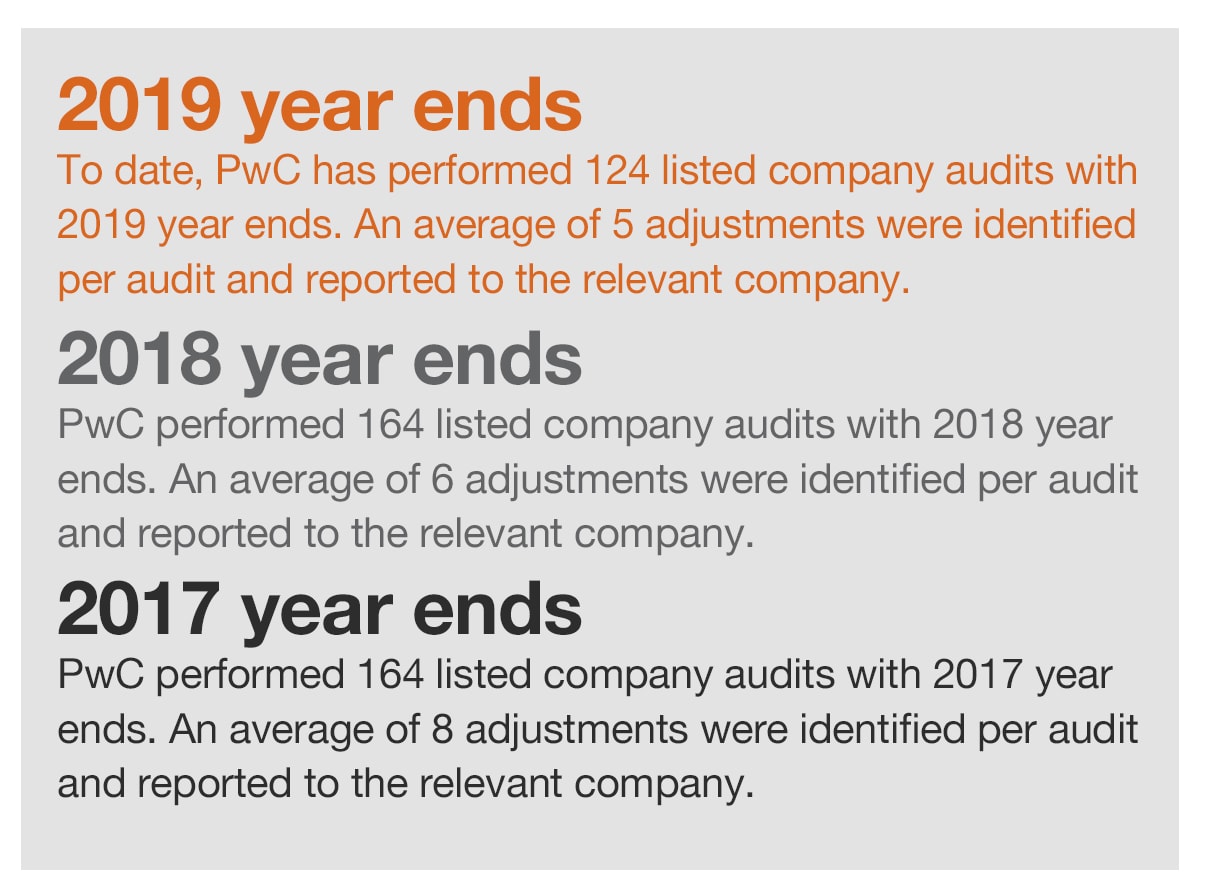 5) Auditor independence: the provision of non-audit services
Independence is a fundamental part of audit quality. It ensures our objectivity.
The Corporations Act prohibits several types of services from being performed for a client by its external auditor. These include engagements where the audit firm might act in a management capacity or find itself auditing its own work.
PwC has comprehensive internal policies so that our independence is not impaired. More broadly, while we note there are no regulations in Australia that require a "cap" on non-audit services provided by the auditor, the amount of non-audit services provided to PwC's ASX200 audit clients in the past three years has averaged approximately 25% of audit fees, which equates to less than 2% of PwC's total revenue in 2019.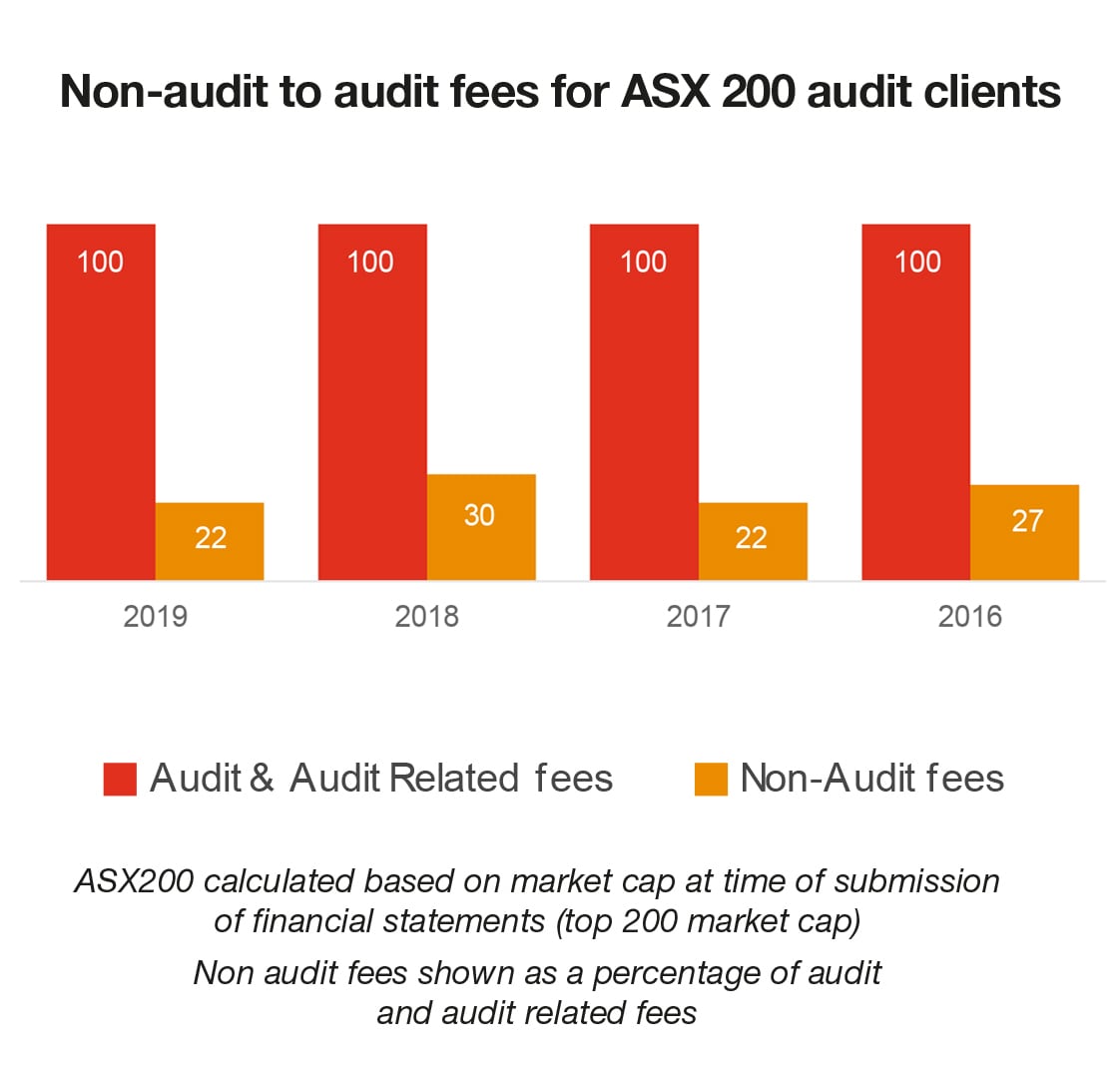 6) PwC's audit business
Recent commentary about the professional services industry, both in Australia and overseas, has suggested that professional services firms have unprofitable audit businesses that are used as a "loss leader" to promote other services within the firm. In our experience, this view is without any basis of fact.
PwC is proud to be the leading audit firm in Australia, auditing 30% of the ASX200.
In FY19 our total revenue relating to audits of financial statements was $443m representing 17% of total firm revenue. In FY18 it was $409m, again representing 17% of total firm revenue.
Our audit business does not position PwC for other services at our audit clients. From time to time, when independence regulations allow, PwC may be the best option for our audit clients when a project needs external assistance. This work will be considered through our own internal independence and conflict processes when they arise before any work commences. Non-audit fees from ASX200 audit clients have approximated 25% of total audit fees over the past three years and represent on average less than 2% of total firm revenue. No PwC audit partner is incentivised for selling non-audit services to clients which they audit.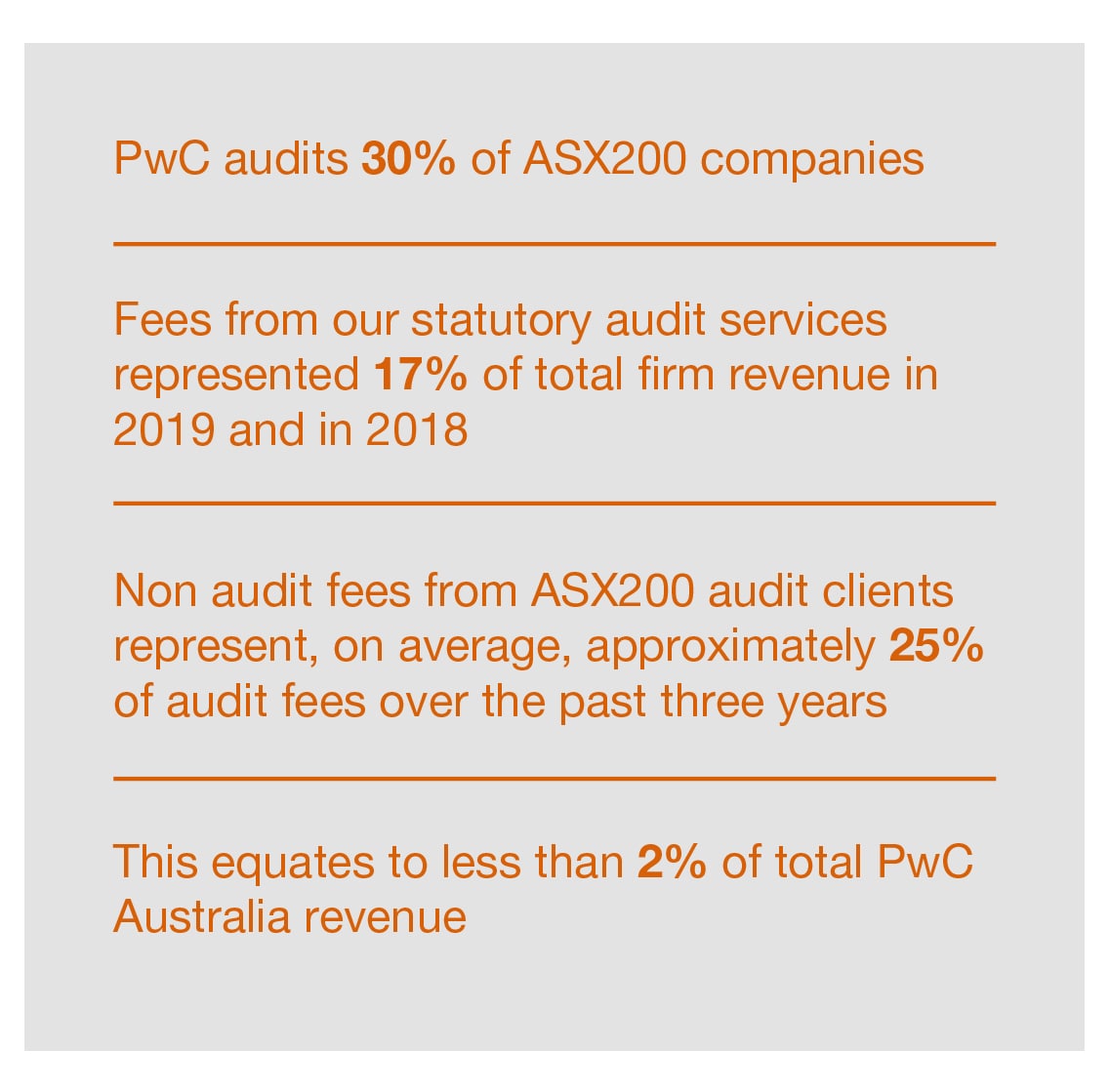 7) A client view of audit quality
Audit Committees, who represent shareholders in their interactions with auditors, have a unique view of audit quality, as they are witness to the many judgements and conversations that occur prior to the publication of their company's financial statements.
In 2018, the Financial Reporting Council commissioned a survey of ASX300 Audit Committee Chairs. 92% of this cohort described their overall view of their external auditor as either "excellent" or "above average".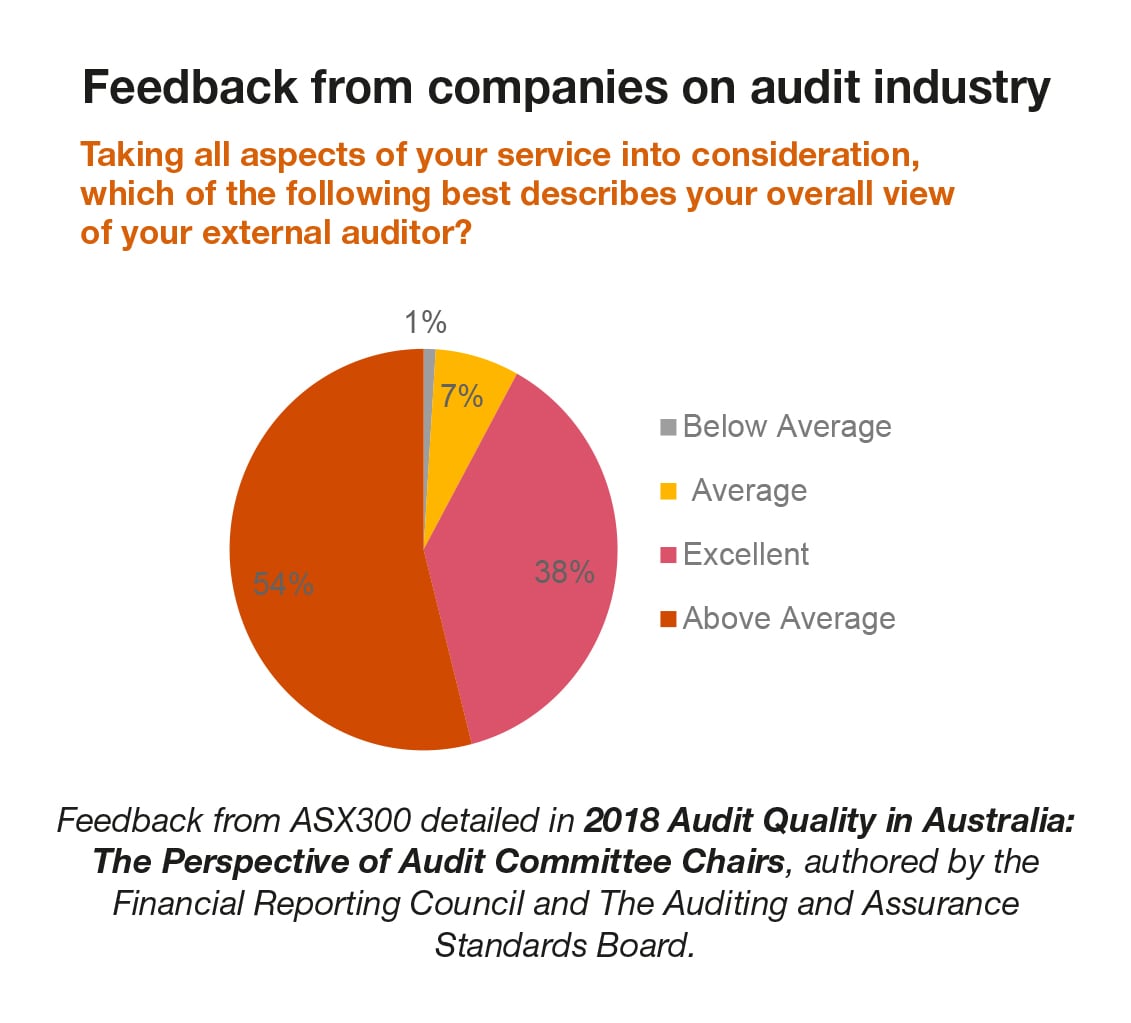 8) An investor view of audit quality
The quality of financial reports is key to confident and informed markets and the views of investors are particularly important. In 2019, the Financial Reporting Council commissioned a survey of professional investors and analysts in the ASX300 to gather their perspectives on audit quality and the value of audit. 93% of respondents believe audit quality is "average" or "above average".